THE VITALIZER | B KOMPLEX
Energy & Nervous System
Vitamin B complex
120 capsules
This B complex revolutionizes your vitality!
All 8 B vitamins in one capsule combined with the superfood buckwheat - for energy production, metabolism, immune system, a strong nervous system and more balance. THE VITALIZER is dosed specifically for women.
Discover the essence of vitality with our B complex!
The B vitamins are essential nutrients. They play a crucial role in energy metabolism and can help reduce tiredness and exhaustion - for more energy in everyday life.

Gender based

Optimally dosed for women

Easy to swallow

Can made from 100% recycled plastic and recyclable
Regular price

Sale price

€39,00

Unit price

€32,00

per

100g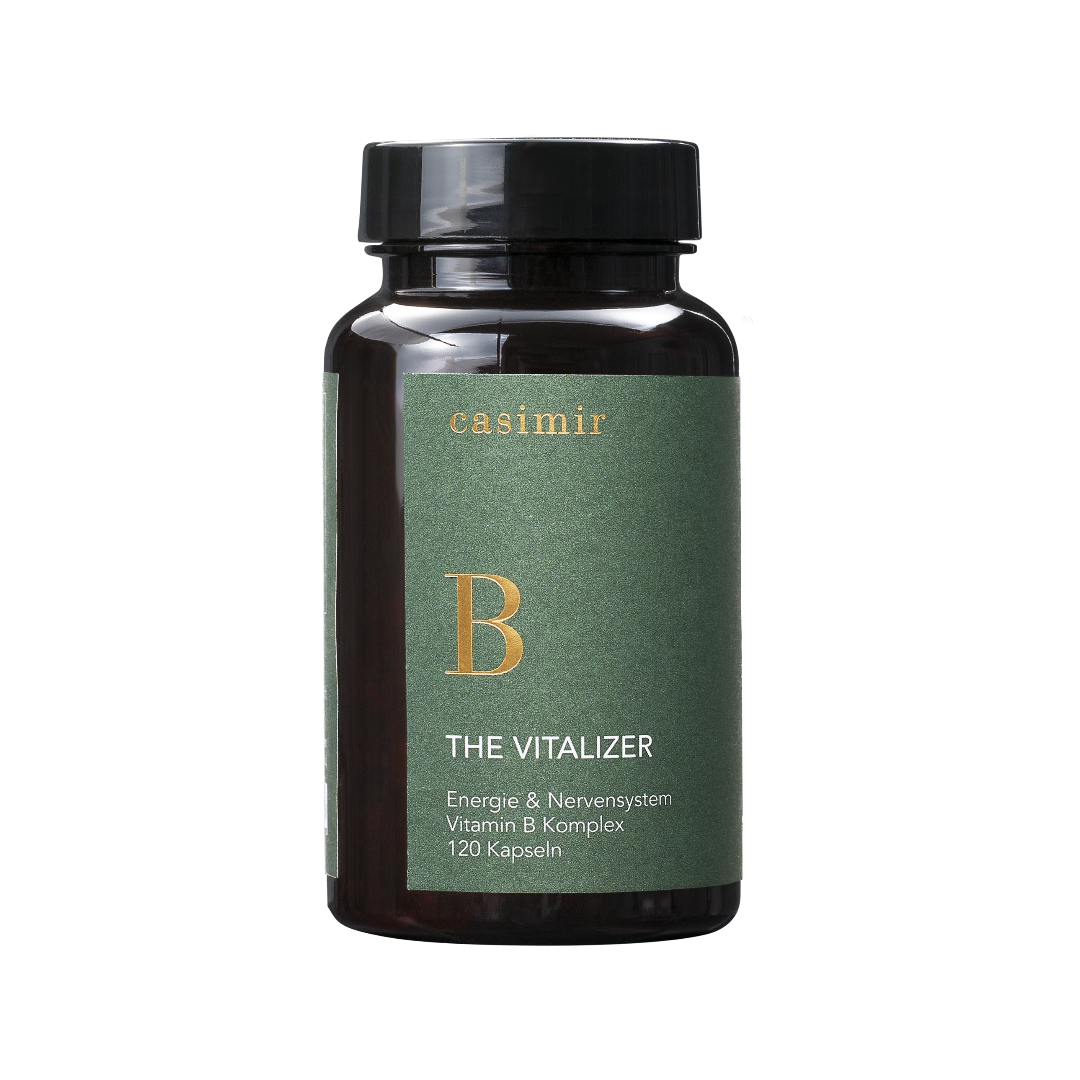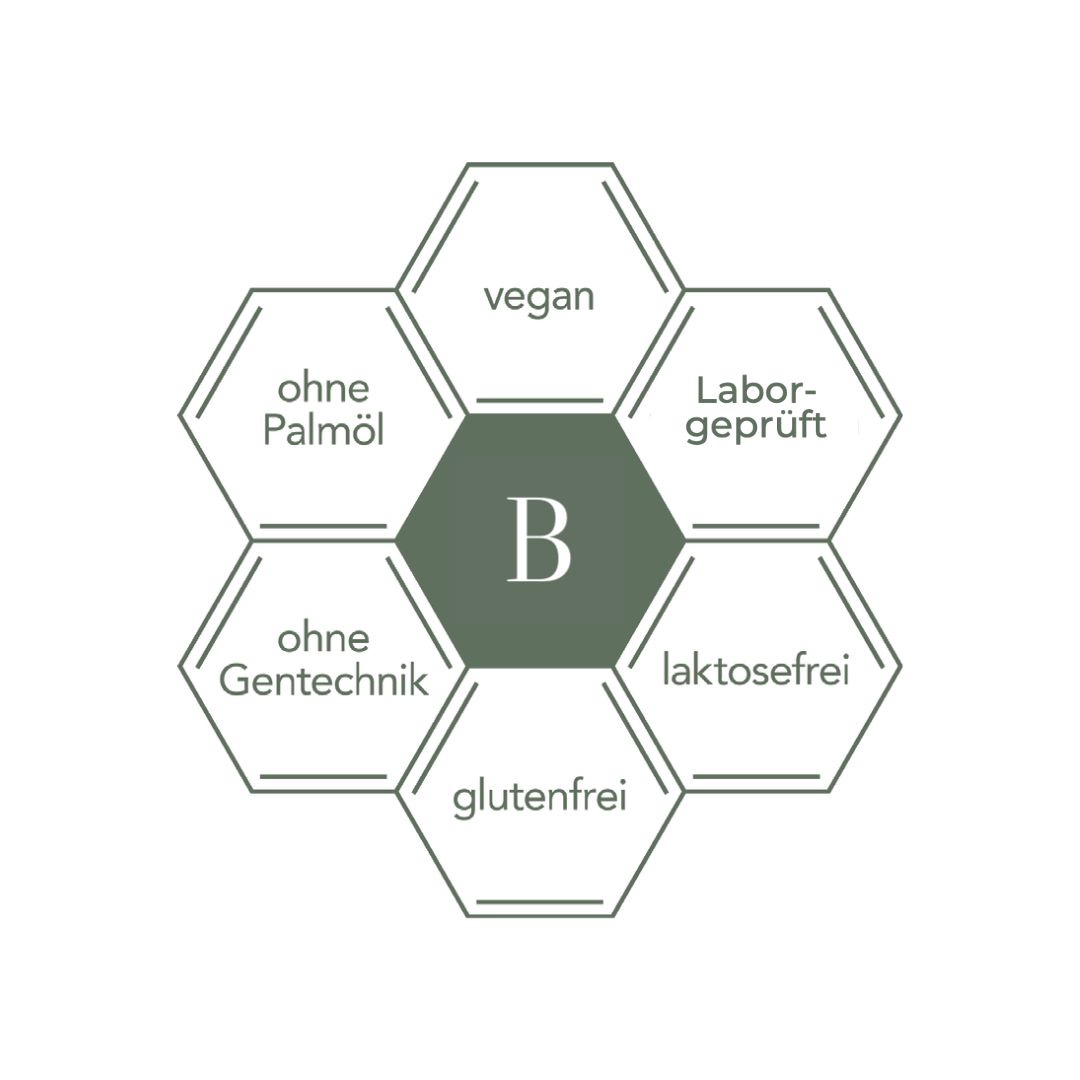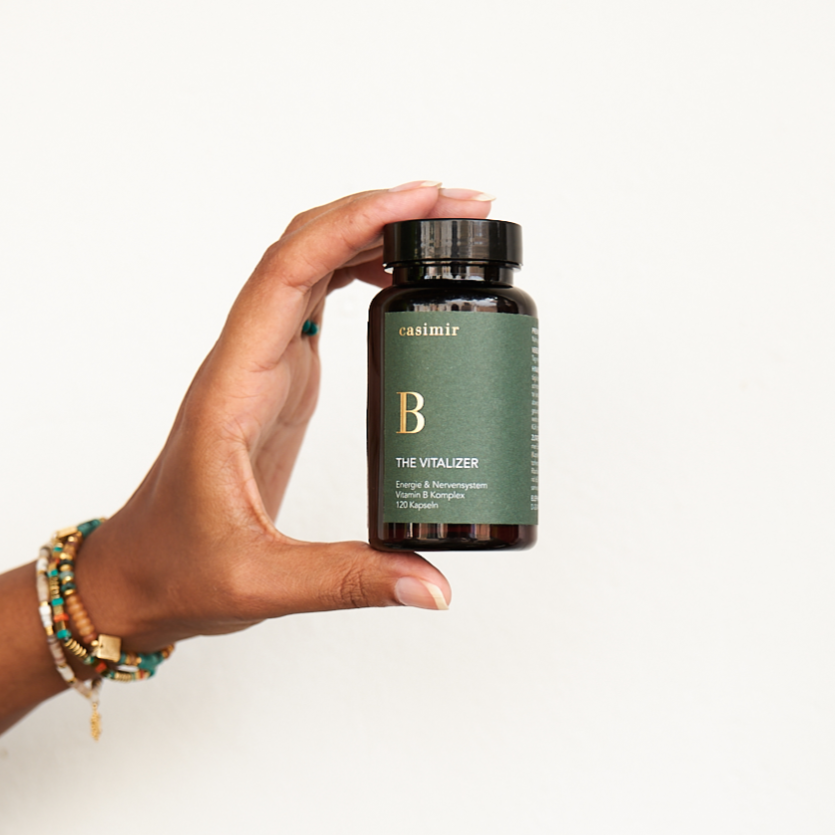 DESCRIPTION & INGREDIENTS
Zutaten & Hinweise

Buchweizenkeimpulver, Leinsamen Extrakt, Hydroxypropylmethylcellulose (Kapselhülle), Nicotinamid, Calcium-Dpantothenat, Pyridoxal-5'-phosphat, Natrium- Riboflavin-5'-phosphat, Thiaminhydrochlorid (6S)-5-Methyltetrahydrofolsäure, Glucosaminsalz, D-Biotin, Methylcobalamin

Verzehrsempfehlung:

Eine Kapsel pro Tag mit reichlich Wasser nach einer Mahlzeit einnehmen.

Hinweise: Die angegebene empfohlene tägliche Verzehrsmenge darf nicht überschritten werden. Nahrungsergänzungsmittel sind kein Ersatz für eine ausgewogene, abwechslungsreiche Ernährung und eine gesunde Lebensweise. Außerhalb der Reichweite von kleinen Kindern aufbewahren. Kühl, trocken und lichtgeschützt lagern.
NUTRIENT VALUES

| Ingredients / daily dose | (= 1 capsule) | %NRV* | % reference value♀** | % reference value♂** |
| --- | --- | --- | --- | --- |
| Thiamine (B1) | 1 mg | 91 | 100 | 83 |
| Riboflavin (B2) | 1.1 mg | 79 | 100 | 79 |
| Niacin (B3) | 12 mg | 91 | 100 | 80 |
| Pantothenic acid (B5) | 5 mg | 83 | 100 | 100 |
| Vitamin B6 | 1.4 mg | 100 | 100 | 88 |
| Folic acid (B9) | 300 mcg | 150 | 100 | 100 |
| Biotin (B7) | 40 mcg | 80 | 100 | 100 |
| Vitamin B12 | 4 mcg | 160 | 100 | 100 |

*Reference quantity according to Regulation (EU) No. 1169/2011.
** Reference quantity according to DGE / EFSA Dietary Reference Values ​​for the EU

| average nutritional values | Per daily dose (= 1 capsule) | Per 100g |
| --- | --- | --- |
| calorific value | 3 kJ/1 kcal | 1,159 kJ/279 kcal |
| Fat | <0.5g | 2.4g |
| hereof: saturated fatty acids | <0.1g | 0.2g |
| carbohydrates | <0.5g | 48g |
| of which sugar | 0g | 0g |
| protein | <0.5g | 6g |
| Salt | 0g | 0g |
Nutrition Reference Value

without genetic technology