THE BEAUTY | ZINK
Beauty & Immune System
Zinc + Chlorella
90 capsules
The unique "mini smoothie" for skin, hair, nails and immune system.
Our pure formula consists of just two ingredients: high-quality zinc and superfood chlorella.
Zinc is a vital and essential nutrient. It contributes to the maintenance of normal skin, hair and nails and supports normal immune system function.
Vegan, gluten-free and lactose-free
Laboratory tested
Optimally dosed
Easy to swallow
Without genetic engineering, without additives, without palm oil
Can made from 100% recycled plastic and recyclable
Regular price

Sale price

€25,00

Unit price

€32,00

per

100g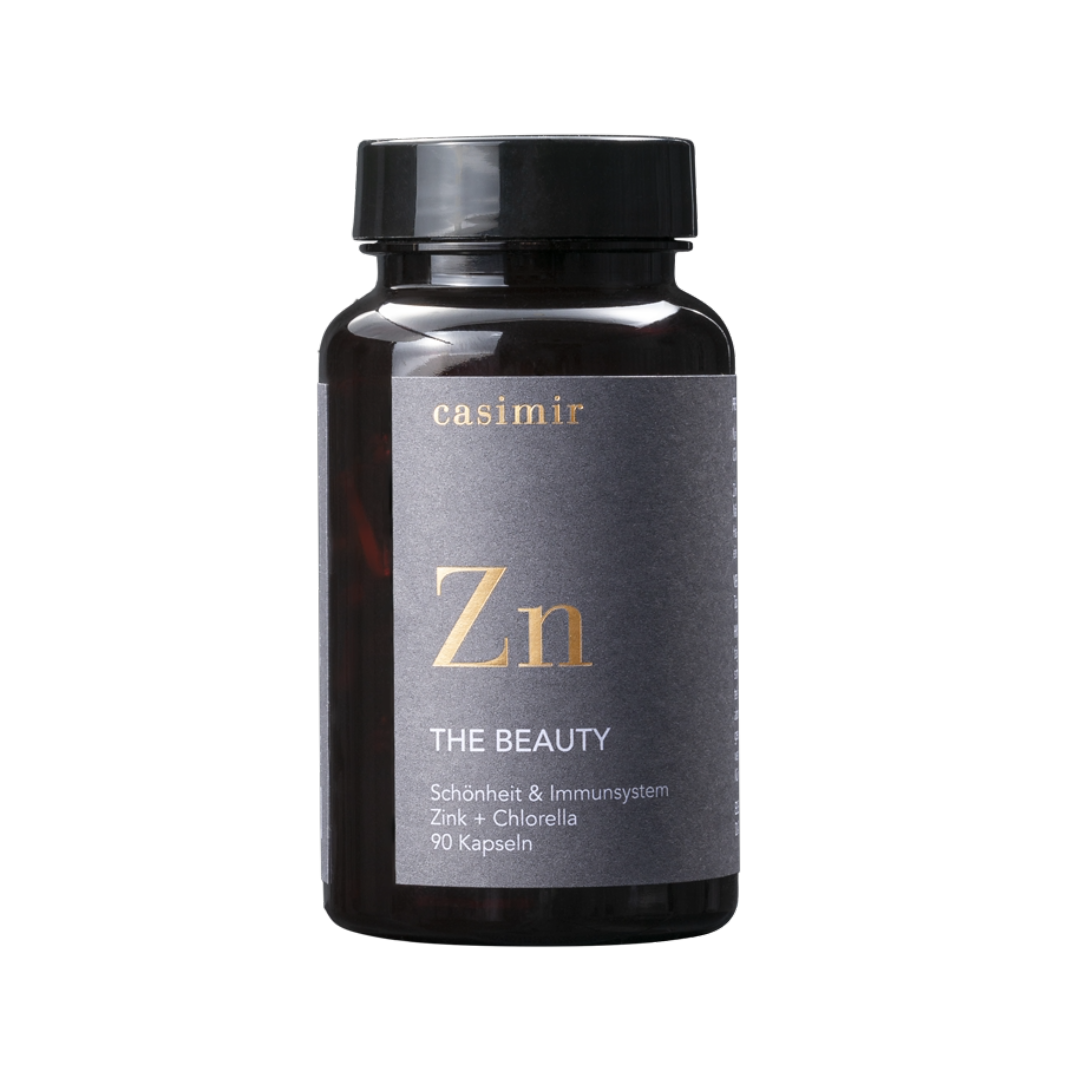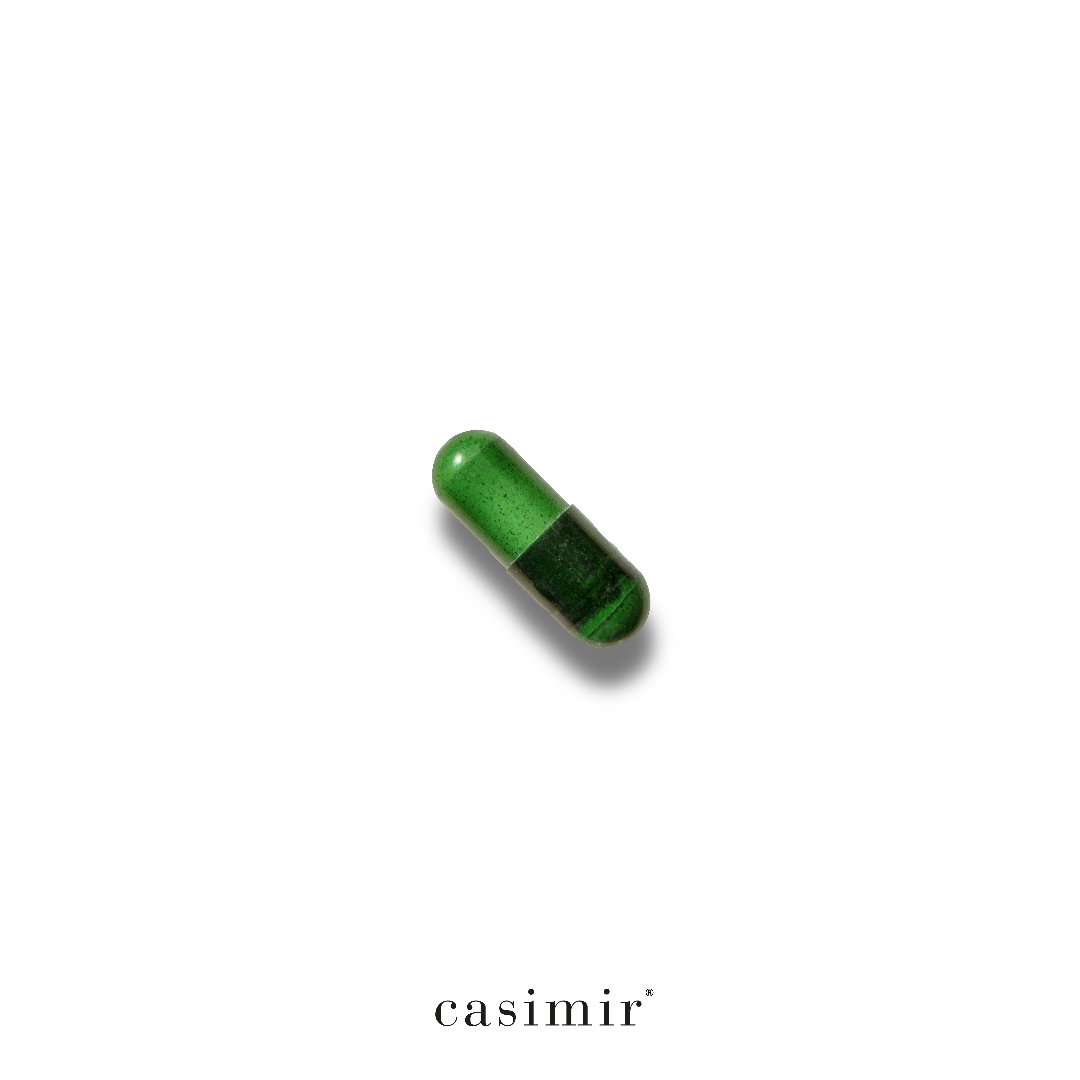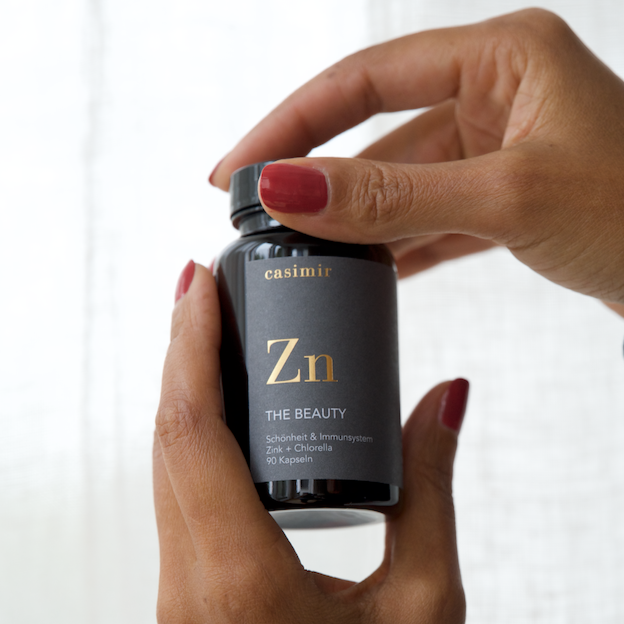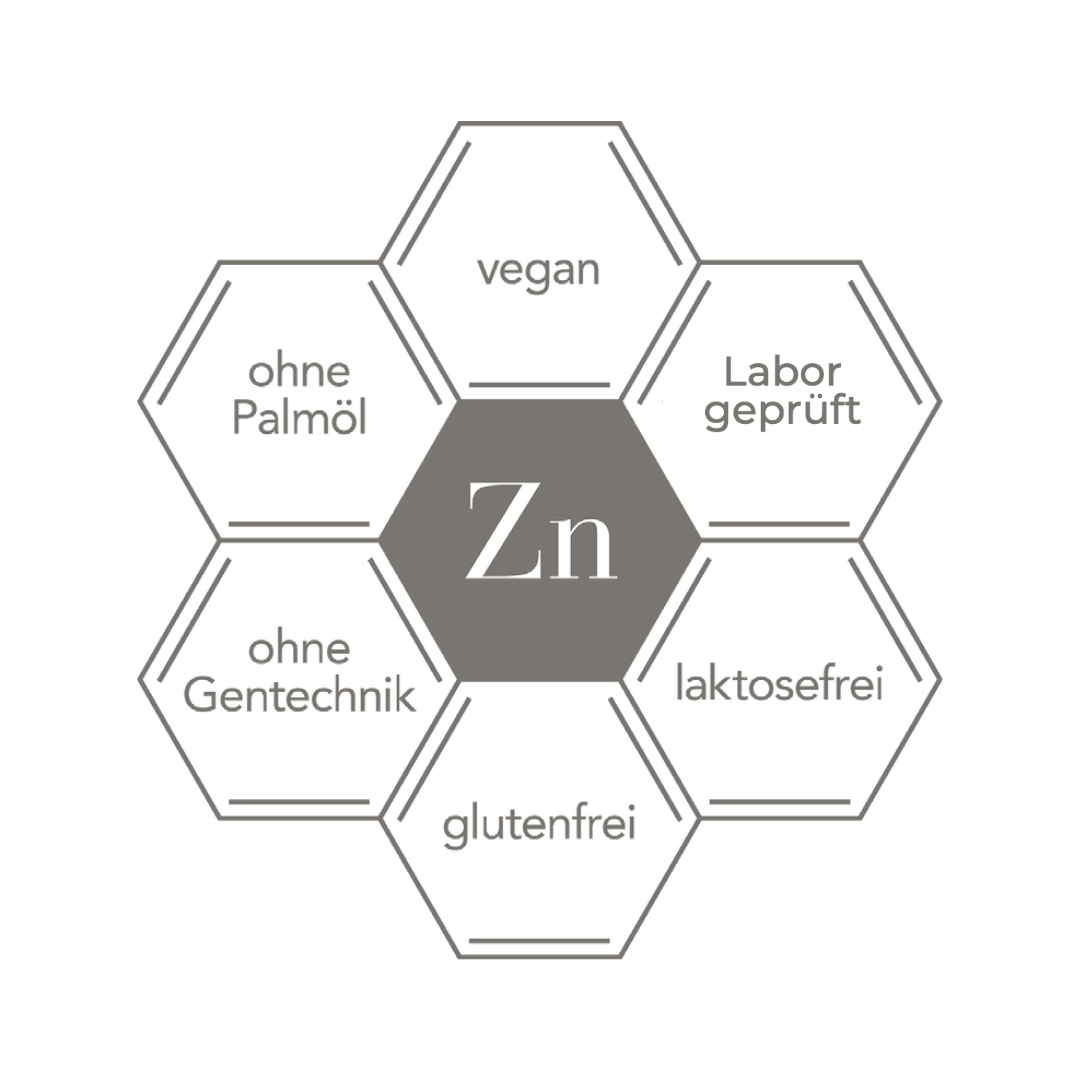 DESCRIPTION & INGREDIENTS
ZUTATEN & HINWEISE

ZUTATEN:

Zinkbisglycinat, Chlorella Mikroalgenpulver, Kapselhülle: 100% pflanzliche Cellulose (Hydroxypropylmethylcellulose)

VERZEHRSEMPFEHLUNG:

Eine Kapsel pro Tag mit reichlich Wasser einnehmen. Da wir eine gut verträgliche Zinkverbindung (Bisglycinat) verwenden, kann die Kapsel jederzeit (unabhängig von Mahlzeiten und Tageszeiten) eingenommen werden.

Hinweise: Die angegebene empfohlene tägliche Verzehrsmenge darf nicht überschritten werden. Nahrungsergänzungsmittel sind kein Ersatz für eine ausgewogene, abwechslungsreiche Ernährung und eine gesunde Lebensweise. Außerhalb der Reichweite von kleinen Kindern aufbewahren. Kühl, trocken und lichtgeschützt lagern.

Um mögliche Wechselwirkungen zu vermeiden, sollte die zeitgleiche Einnahme mit Calcium oder Eisen vermieden werden.

Bei Empfindlichkeiten wird die Einnahme am Abend empfohlen.

Da einige Nährstoffe in pflanzlichen Lebensmitteln (Phytate) wie Vollkornprodukte oder Gemüse die Einnahme von Zink hemmen können, ist eine zeitliche Verzögerung der Einnahme empfohlen.
NUTRIENT VALUES

NUTRIENT REFERENCE VALUE (NRV):

| Ingredients / daily dose | (= 1 capsule) | %NRV * | % reference value♀** | % reference value♂** |
| --- | --- | --- | --- | --- |
| zinc | 15 mg | 150 | 150 | 136 |
| Chlorella microalgae powder | 240 mg | – | – | – |

*Reference quantity according to Regulation (EU) No. 1169/2011.
**Reference amount according to DGE / EFSA Dietary Reference Values ​​for the EU

| average nutritional values | Per daily dose (= 1 capsule) | Per 100g |
| --- | --- | --- |
| calorific value | 6 kJ/1 kcal | 1497 kJ/360 kcal |
| Fat | <0.5g | 8.2g |
| hereof: saturated fatty acids | 0g | 0g |
| carbohydrates | 0g | 11g |
| of which sugar | 0g | 0g |
| protein | 0.1g | 39g |
| salt | 0g | 0g |